I KIRIA EPITHEORISI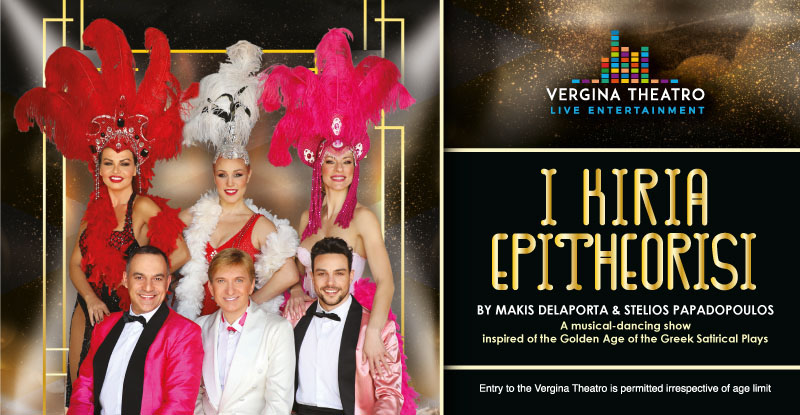 A musical/dance show dedicated to the music and the songs of the most important insights that left a time in the history of Greek musical-theater!
Sparkling costumes with chrysanthemums, feathers, ballets, orchestras, spectacular scenery, authentic music and a myriad of well-known actors and singers come to travel to the world of "I Kiria Epitheorisi"!
From the "Panathinaia" of Marika Kotopouli to the later "gossips" of the genre, Rena Vlachopoulou, Anna Kalouta, Sperantza Vrana, Vassilis Avlonitis, Orestis Makris, Rena Dor, Sophia Vembo and many others who actually built this unique musical genre.
Staring Penelope Anastasopoulou, Zeta Douka, Krateros Katsoulis, Nina Lotsari, Aris Makris. In the role of comber, Makis Delaportas.
Dance, choreography: Thodoris Panas.
Texts: Stelios Papadopoulos, Makis Delaporta
Orchestration: Konstantinos Pagiatis
Dancing: Athena Aggelis, Eleni Dimou, Stella Eminoglou, Irene Kyizopoulou, Antonia Pitoulidou, Dimitris Chatzitheodosiou and Sabrina Ryckaert.

Vergina Theatro, Regency Casino Thessaloniki. From 22nd of March
Entry to Vergina Theatro is allowed irrespective of age

Information at 2310 491 291
SALES
Get your tickets
from the casino (24 hours a day)
from Public Stores
online here
calling 210-7234567