La Terrasse
Our kitchen smells like... Italy!
For June only, get the chance to visit La Terrasse restaurant and taste authentic Italian recipes that will fascinate you!
Enjoy an unlimited consumption meal along with a free glass of wine or beer or tanned refreshment.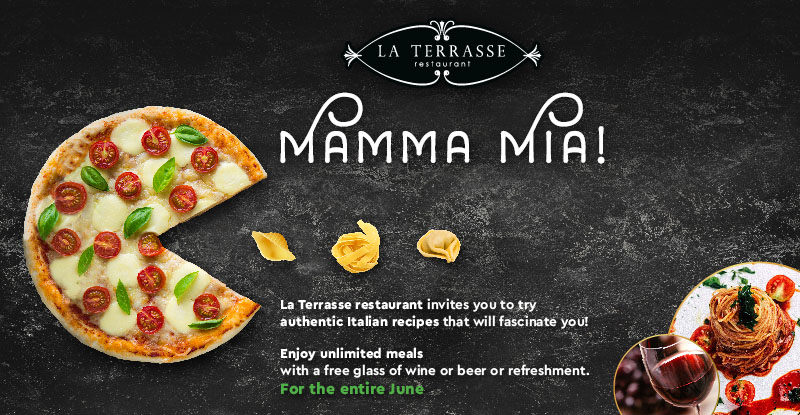 The rich buffet of La Terrasse restaurant is expecting you with unique flavors, made with fresh and pure ingredients.
Taste unlimited a great variety of meat and stew dishes, fresh salads and fruits, delicious desserts and make your own pasta at the live pasta station! Accompany your meal with a glass of wine or beer or soft drink!
For more information call 2310 491 234.
Entry is allowed for persons over 21 years of age. It is mandatory to provide ID or passport.
La Terrasse Opening Hours & Pricelist
Monday - Thursday / 13:00 - 18:00 / Cost 12€ or 180 points
Monday - Thursday / 20:00 - 02:00 / Cost 14€ or 210 points
---
Friday & Saturday / 13:00 - 18:00 / Cost 12€ or 180 points
Friday & Saturday / 20:00 - 03:00 / Cost 14€ or 210 points
---
Sunday / 13:00 - 18:00 / Cost 14€ or 210 points
Sunday / 18:00 - 02:00 / Cost 14€ or 210 points