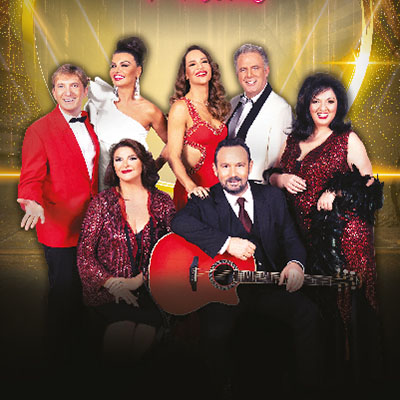 "CINEMASCOPE The musical"
The new musical performance of Makis Delaportas and Stelios Papadopoulos is coming to Vergina Theater from December 20
A glorious tribute to the old Greek Cinema!
A "Journey to a Dream" so nostalgic, humorous, glamorous, wonderful, adorned with the most beloved songs of Greek cinema, such as "I'll drink the moon tonight", "Kamaroula a star", "I have a distressed heart", "I love wants two "," I want my holes "," The best student "," Open stone "and others, performed by today's most notable singers and actors, such as: Kostas Makedonas, Katerina Kouka, Nina Lotsari, Sofia Moutidou, Paschalis Tsarouchas and Nikoleta Carras.
In the role of the narrator, Makis Delaportas.
Orchestration: Constantine Pagiatis
Dance, choreography: Markos Yakoumoglou.
Texts: Stelios Papadopoulos, Makis Delaportas
Dancing: Athina Angeli, Arsenis Gavriilidis Eleni Dimou, Irini Kyziroglou, Panagiotis Dovas, Antonia Pitoulidou, Dinos Fragoulis.
Vergina Theater, From December 20th.
Start Time: 21:45
Entry to the Vergina Theater is allowed regardless of ageInformation on 2310 491 234.
TICKETS
Get your tickets
from the casino (24 hours a day)
from Public shops
online here
by phone at 210-7234567